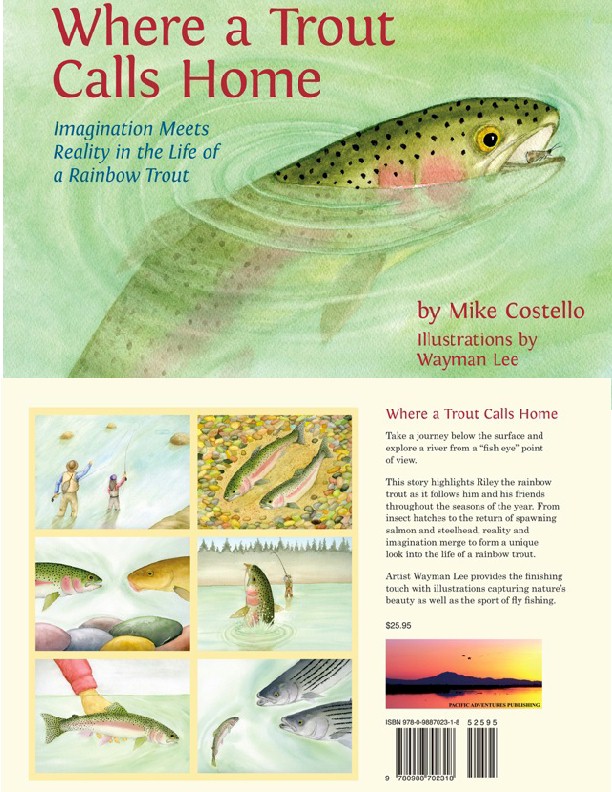 Greetings Everyone,
I am pleased to announce that my latest book, Where A Trout Calls Home will be available in mid-February. The book follows Riley the rainbow trout and all his river friends over the course of the year. From insect hatches to the return of spawning salmon and steelhead, reality and imagination merge to form a unique look into the life of a rainbow trout.
The book is 56 pages long with artist Wayman Lee providing 12 incredible illustrations. It is written for young anglers in the 8 to 12 year old range, but adults will also find it entertaining as well as educational. I have started my own publishing company, and the book will be printed in the United States and will be available in Hard Cover for 25.95 and Soft Cover for 15.95. I am hopeful to have a number of fly shops across the country carrying the book and I will have a list of retailers on my web site: captainmikecostello.com.
My first book signing will be on Sunday, February 17th, at the California Fly Shop, in San Carlos, California from 11 – 5. Besides signing books, I will be doing a program on Delta fly fishing, and a great lunch will also be served. Please contact the shop to let them know if you will be attending. I will also be signing books at the Pleasanton Fly Fishing Show on Saturday, 2/23, starting at 12pm and then again on Sunday, 2/24, at 10 am. Finally, I will be in Van Nuys, California at the Fishermen's Spot on March 9th from 12pm to 3pm. I will post any other book signings on my web site and Face Book page. Hopefully I will get to see some of you over the next couple of months, thank you for your support.
Fish Hard, Mike Costello