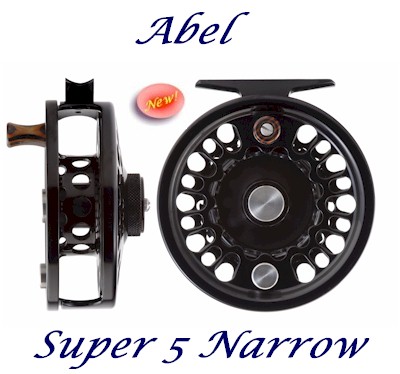 CAMARILLO, Calif. – A large arbor, narrow spool, disc drag trout reel expressly designed for 5- and 6-weight fly lines is the latest addition to the Abel arsenal of precision-machined products.
Called the Super 5 Narrow or S-5N, the reel was in development for about a year in an attempt to determine the precise ratio of narrow spool to large arbor.  "Too narrow a spool or too large an arbor (hub) and there's not enough capacity; it must be 'just right' to utilize the advantages inherent in both a narrow spool and large arbor model," said Abel spokesman Don Swanson.
The combination of narrow spool and large arbor will give anglers rapid line retrieval capabilities.  Additionally, the line lays on the spool in larger coils.
The American-made S-5N is machined from cold finished 6061-T aircraft quality aluminum.  "Cold finished aluminum is significantly more expensive than extruded aluminum; but the cold finishing process dramatically increases the molecular density.  It creates a stronger metal.  Reels are then precision machined (not die cast) on C.N.C. lathes and mills," said Swanson.
Abel's newest reel was designed for Montana- and Alaska-size trout, half-pound steelhead, jack salmon, small Gulf Coast reds, speckled trout, sea-run cutts, small stripers or blues and any other fish on a 5- or 6-weight rod in freestone river, spring creek or lake conditions.  The 5.7 ounce reel is fitted with Abel's 100% cork disc drag system, is fully anodized and finished for both fresh and saltwater use. For more information go to www.abelreels.com