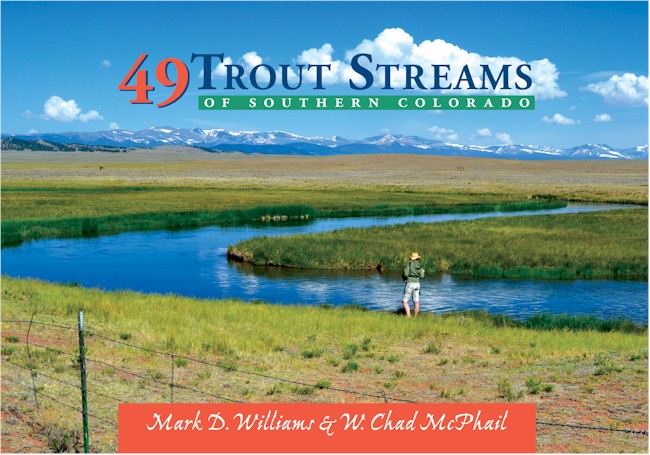 "I just received a copy of 49 Trout Streams of Southern Colorado and while I've only given it a cursory read, this guide book appears to be very well done.  It actually details in succinct, pertinent text, supported with superb photography, more that 50 of Southern Colorado's most productive trout rivers and streams – many you've probably never heard of.  If you plan to fish southern Colorado I think this new guide book would be an absolute treasure trove of inside information provided by two of the best in the business."  Dan Blanton 
ISBN: 978-0-8263-5137-1
$27.95 paper, 120 pages
277 color photos, 1 map
Publication: April 2013
CONTACT:                                                                                                             
Katherine MacGilvray                                                                                         
UNM Press Publicity                                                                                                        
505.277.3291/katm@unm.edu                                                                                                                            
 Combining Stunning Photographs with Minimal Text, Guidebook Highlights Unique Character of Southern Colorado Fishing Spots
 ALBUQUERQUE—Mark D. Williams and W. Chad McPhail consider themselves fortunate to have fished thousands of miles of river around the country and around the world, but find themselves repeatedly returning to the waters of southern Colorado. For the seasoned anglers southern Colorado has it all, from the isolated flats of the San Luis Valley to the picturesque peaks of Ridgway to the high-desert badlands near Durango. These areas are not only scenic but also offer an endless number of streams and rivers in which to fish. Inspired by Raymond Shewnack and William Frangos' 49 Trout Streams of New Mexico, also available from UNM Press, Williams and McPhail have created a fly fishing guidebook with minimal text and exceptional color photographs. Although they tried to limit themselves to forty-nine of their favorite locations in southern Colorado, they cheated and included fifty-six.
While most fly fishing guidebooks focus on large, well-known drainages, Williams and McPhail identify many locations not included in other books, but have intentionally left out some lesser-known high-country streams to avoid traffic and overfishing. They have also been selective in recommending appropriate flies for each stream, picking patterns that have worked for them rather than the obvious ones local fly shops might recommend. And throughout, from the Animas River to Willow Creek, they offer text and spectacular photos that bring out the unique character of each fishing spot.
NOTE FOR MEDIA: For more information, please contact Katherine MacGilvray, UNM Press Marketing & Publicity, at 505.277.3291 or katm@unm.edu
49 Trout Streams of Southern Colorado is available at bookstores or directly from the University of New Mexico Press. Mark D. Williams and W. Chad McPhail have also co-authored Colorado Flyfishing: Where to Eat, Sleep, Fish and So You Want to Flyfish, and each is the author of other books on fishing, camping, and the American West. They both live in Amarillo, Texas.