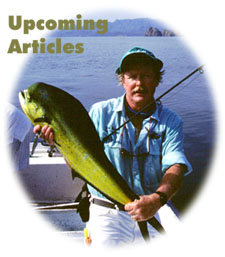 by Dan Blanton
The other day while gassing up my boat at Russo's Marina, California delta, a young man walked out of Chuck's bait shop and introduced himself to me. His name was Matt Havlock and he and a couple of buddies were fly fishing the delta for stripers and living aboard a rented house boat. They were there because of an article I had written in Fly Fisherman magazine about house-boating the delta, a couple of years back. It was Matt's second season fly fishing there and he and crew had hit the stripers, big time! He wanted to meet and thank me for all the informative articles I had written over the years. He was definitely a fan.
It is always a special pleasure for me when one of my readers thanks me personally for an article I've written, which helped put him or her onto a new fly fishing area, technique, or fly - whatever. As an outdoor fly fishing writer, that's what my job is all about; and when it works, it is very gratifying.
The purpose of this page is to alert you to any new articles I've written which are scheduled for publication within the next 12 months. So, If you are interested in a particular fly fishing subject, and I have an article soon to be published, dealing with that subject, you now won't have an excuse for not knowing about it. Of course, you need to know that editors have a nasty habit of changing publishing schedules - my disclaimer...
Publications and Scheduled Publishing Dates/Issues:
California Fly Fisher magazine - Upcoming issue, Jan/Feb 1999 - Make Mine Winter stripers all about fly fishing for winter stripers in the California delta.
Fly Fishing In Salt Waters - July/August or Sept/October 1998 - Connections all about the proper connections from reel arbor to fly.
Sport Fishing Magazine - Late 1998 or early 1999 - Fly Fishing Jungle Estuaries all about fly fishing the top jungle estuaries, ranging from the Yucatan to northern Venezuela - where, when, how to tackle to flies.
Fly Fish America - Look for Dan Blanton's monthly column The Salt.
Fly Fish America Magazine - Look for Dan Blanton's monthly fly fishing column.

Dan Blanton's Coast to Coast Guides Page
Writing | Slide Shows | Stock Photography | Fly Casting Lessons | Travel/Tackle Consulting | Angling Destinations - Clinics Tackle and Techniques | What's Hot - Tackle to Fishing | Blanton's Original Flies | HOT Flies | Upcoming Articles Previous Articles | Bulletin Board | Email Back Home