Australia Salt Water

---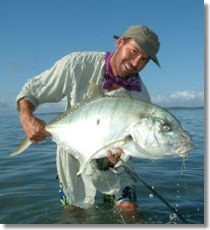 Flats Golden Trevally - sight fishing at its best...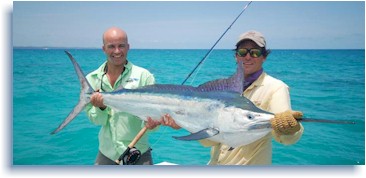 Flats Black Marlin - endless possibilities...

Saltwater Fly-fishing Adventures is a guided fly fishing service based in Hervey Bay, Queensland, Australia and owned & operated by Nat Bromhead, a full time professional fly fishing guide with over 8 years guiding experience and a genuine passion for the sport.
The Boat is a custom built Gale force 4.8 - thoughtfully set up for the fly fisher with large snag free casting decks, a forward leaning post, push pole and poling platform, a super quiet four stroke motor and the latest in marine electronics and safety gear to help create a memorable day on the water.
Hervey Bay is renowned for its sensational inshore fly fishing and famous for itís resident Golden Trevally and flats fishing. Also offering great year round fishing , it is the perfect place for a short break or week long fly-fishing holiday. In addition the region boasts many fine beaches, a diverse range of shops, restaurants & cafes, as well as some great museums and history to keep non fishers happy , plus of course, Fraser Island and the Whales !
Target Species include Longtail and Mack Tuna, Tailor, Mangrove Jacks, Tarpon, Barramundi, GTís, Cobia, Queenfish, Spanish Mackerel, of course Golden Trevally plus more!
Charters are based on either half or full dayís fishing. Half days include refreshments and are priced at $395 AU. Full days, including refreshments and lunch are priced at $550 AU.
Direct Flights & Airfares from Sydney and Melbourne are at all time low prices at around $90 each way . For the latest and best fares to the Fraser Coast enquire via www.jetstar.com.au or www.virginblue.com.au .
Call or Email for more information or to make a booking on 0409 849 362 or email nat@saltwaterflyfishing.com.au
---
| Writing | Slide Shows | Stock Photography | Fly Casting Lessons | Tackle and Techniques | What's Hot - Tackle to Fishing | Blanton's Original Flies | HOT Flies | BulletinBoard | Email | Back Home |