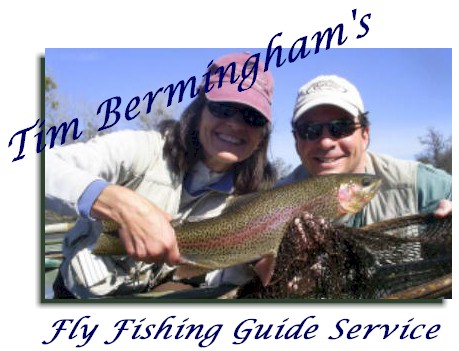 * Tim Bermingham's Drift Boat Guide Service
Central Sierra Foothills within a short two hour
drive from the S.F. Bay Area.
Tim Bermingham's Fly Fishing Guide Service.
Guided fly fishing trips on the Lower Stanislaus, Tuolumne and Merced Rivers for Wild Rainbow Trout.
Driftboat, Outboard Jet boat, and wading excursions . Please call for trip details, rates or fishing update. You will likely get the answering machine. Please leave a short message and I will reply as soon as I'm able.
Home: 209 984 4007
CELL: 209 743 0887
---
* MERGANSER OUTFITTERS
Your source for Lake Almanor area fly fishing guide service: MERGANSER OUTFITTERS can provide an opportunity to sample a unique Stillwater venue. Lake Almanor offers excellent numbers of Rainbow Trout, Brown Trout and Smallmouth Bass, During 1998, Rainbows averaged 2 pounds plus, with Browns a close second in size. SmallmouthBass will average over a pound, with some specimens topping three pounds.
Almanor trips are; flyfishing, catch and release only. most trips will -utilize my 16 foot slciff wit.-, walk-around capability. Two anglers can easily flycast simultaneously from my skiff. Full-day or half-day trips are available, with lunch provided on full-day trips only. Bottled water, snacks and soft drinks will be available on both full and half-day trips. Equipment, top of the line SAGE rods equipped with LAMSON reels and SCIENTIFIC ANGLER lines are available if needed. For booking and additional information, contact Milt Jensen at:
MERGANSER OUTFITTERS
P.O. Box 45
Chico, CA 95927-0045
Phone/Fax (530)343-4071