With Captain Scott Leon


Welcome to Paradigm Shift Charters, a unique operation offering fly and light tackle fishing trips off San Diego. We cater to anglers of all experience levels and desires, whether you prefer chasing bay bass and bonefish in San Diego Bay, yellowfin tuna and marlin offshore or even yellowtail, dorado and albacore just south of the border in Mexico. And we even fish makos and blue sharks, too.

We run half-, three-quarter, full- and extended-day trips year round, although certain types of trips are better suited to specific seasons. We can easily run up to 85 miles one way if we need to in order to locate fish. Our goal is to put you where the fish are as comfortably and safely as possible.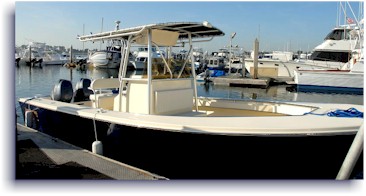 Our specially equipped 26-foot Jones Brothers is the finest fishing center console in San Diego and was laid out specifically for fly-fishing. We carry a complete array of tackle, fly and conventional, including Cam Sigler rods and Shimano gear, but you are welcome to bring your own equipment. We carry fly rods from 6- to 16-weight, depending on what we fish for.

The Paradigm Shift is docked at the Dana Landing Marina on Mission Bay, just across the street from Sea World and minutes from downtown San Diego. We can easily pick you up at your hotelís dock if you are staying on the bay.
Species - Please call or check our Web site for specific seasons.



Spotted and barred bay bass; halibut; mackerel; white seabass; bonefish; barracuda; yellowtail; bonito; calico bass; rockfish; ling cod; mako sharks; blue sharks; threshers; striped marlin; dorado; yellowfin tuna; bluefin tuna; albacore; skipjacks; and big eye tuna.
To Book A Trip
Half-, three-quarter-, full- and extended-day trips are available. Our boat accommodates up to 4 people, with two anglers optimal for fly-fishing. A $100 refundable deposit is required. Drinks, ice and light snacks are provided for all trips, but meals are included on longer trips. Mexican and California incenses are not included but are provided.
Charter Rates
Half Day (approx. 4 hours) - $400.00
ĺ Day (approx. 6 hours) - $600.00
Full Day (approx. 8 hours) - $800.00
Extended Day (approx. 14 hours) - $1000.00
You may check availability of dates and book us online through our booking calendar on our Web site or call 619-400-9521.
Contact us: scott@paradigmshiftcharters.com