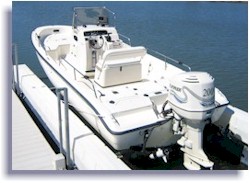 Fall Run Guide Service
Fly Fishing for Striped Bass on San Francisco Bay
USCG & DFG Licensed & Insured
Capt. John Quigley
Phone:   415-272-4541, E-mail: FallRunStripers@comcast.net
Fish the "Middle Grounds" of San Francisco Bay, an area with some of the best fly fishing for stripers on the West Coast.

When?
Fishing is good May through October, some years into November.  The best months rank in this order … October, September, June, & May.

Where?
All these spots are within a 10 to 15 minute run … Red Rock, the Brothers, the Sisters, Marin Islands, China Camp, San Quentin, Richmond Bridge, Paradise Cove, and California City.
This area encompasses the heart of the best striper fishing San Francisco Bay has to offer.
Boat: A 22' Boston Whaler Dauntless with a 200 hp Evinrude.  Rigged specially for fly fishing, it has two stern mounted electrics for precise maneuvering and control.  Fast and comfortable.  Docked on Corte Madera Creek … right in the center of the best fishing areas of the bay!

Equipment: We fish with 8 and 9 weight fly rods, usually with fast sinking lines.    Bring your own outfit or use the top-of-the-line outfits I provide.  Primarily Sage rods and quality large arbor reels.  Flies and leaders are supplied.  Top water outfits with floating lines are available if an opportunity presents itself!  A cooler with ice, water, and soft drinks will be on board.  Bring sandwiches and/or snacks if you like.

Catch and Release is encouraged and the use of barbless hooks is easier on the fish and safer for the caster.
For full details…