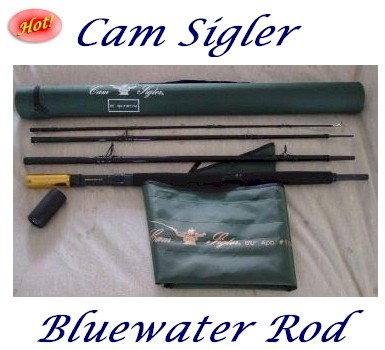 NEW CAM SIGLER 4 piece BLUEWATER RODS
Especially designed for bluewater fishing, we've used heavy duty spigot ferrules,
overlaid with an extra layer of glass for strength, non-corrosive graphite reel seat, EVA
foam grip and fore grips, carbide stripping guides, overlaid chrome snake guides and
bridged tip top.  Specially designed anodized aluminum swivel gimbal allows you to
lock into fighting belt also comes with gimbal cap.  Rod comes with cloth bag and
nylon covered PVC travel tube.