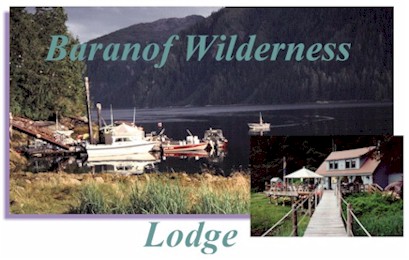 Join Dan & Cindy Blanton
For a week of incredible fly fishing
and wildlife viewing at

Baranof Wilderness Lodge - Alaska
Week of August 22 - 27, 2005
Prime time for silver salmon on the fly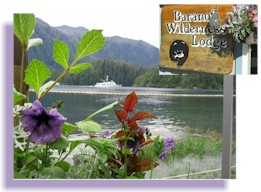 Baranof Wilderness Lodge is nestled in Warm Springs Bay on the east side of Baranof Island, 20 air miles east of Sitka. A short, spectacular float plane ride from Sitka delivers you directly to its floating lodge-side dock. Warm Springs Bay is named for the remarkable natural hot springs, enjoyed today as it was by native Tlingit Indians for centuries.
The un-pressured waters around the lodge offer the most abundant and diverse salt and freshwater fishing available in Alaska. Dozens of spectacular bays, estuaries, streams and lakes within a short boat ride or hike from the lodge offer premier angling.
Prepare to spend some time seeing Alaska at its best. Fish hard or just relax, browse the lodge facilities and enjoy your visit.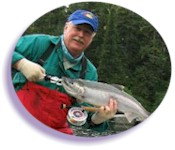 Cindy and I had the pleasure of visiting Mike and Sally Trotter's Baranof Wilderness Lodge in August, 2003. This is renowned fly-fishing writer, Ken Hanley's "home water" when it comes to Alaska fishing and Baranof Lodge is where he hosts three weeks of fly fishing clinics every year. This in itself speaks highly of the lodge, its staff and the incredibly diverse fly fishing it offers.
We had a wonderful time there and were extremely impressed on all counts. We both feel that Baranof Wilderness Lodge is the near perfect cold-water fly fishing destination, particularly if you want variety and angling diversity. If you don't mind mooching with gear the halibut fishing is an added bonus. We did it all!
It's also a great place for couples and while we are not billing this week as a couples only week, we are absolutely encouraging fly fishing couples to join us. Of course we'd welcome non-couples too, although rates, accommodations and boats are all based on double occupancy, so you'll need a partner.
This week is prime silver salmon time. You'll be fly fishing for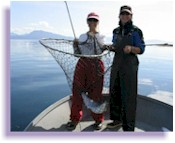 them in ocean waters which are normally very calm, casting to marauding schools of silvers chasing bait in beautiful coves and and along nearshore kelp beds. There is often sight casting to pink salmon cruising in protected bays. The shoreline scenery is brilliantly breathtaking! Wild life and marine life abound and it's worth the trip just to view the whales and other marine life.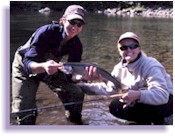 There is also wonderful stream fishing for dollies (Cindy's favorite) and pink salmon and some incredibly fun fly fishing for wild, lake cutthroat trout.
Did I mention the fly fishing for rock fish and mooching with cut herring for halibut; seeing bears; the splendid seafood; lodging; boats; staff; guides - everything is first rate. And yes, you can take some fish home too, if you wish, all vacuum-packed - fresh halibut and smoked salmon. Needless to say, we are very excited about hosting our return week of August 22 - 27, 2005.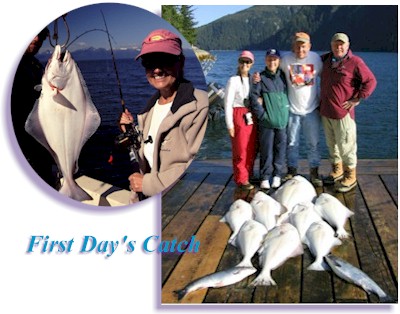 Baranof Wilderness Lodge provides all tackle, waders and flies if you need them and it's all top notch equipment. Of course if you're like most fly anglers, you'll want to bring your own rods, reels and flies, but don't fret about bringing waders they have plenty of them in all sizes.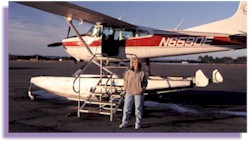 Getting to Baranof Wilderness Lodge from just about anywhere is a breeze with daily flights into Sitka where you will overnight before being flown into the lodge the next morning via float plane. Returning to Sitka is often via charter ferry boat, a delightful experience.
Booking information
Rates: Five nights, 5-1/2 days fishing, including entire package, lodge, food, guided fishing, including charter air or ferry transfer is $4,150.00. Tips average around $300 per person. Again the week is August 22 - 27, 2005.
To book a Trip: Contact Mike or Sally Trotter at: 800-613-6551 mtrotter@flyfishalaska.com or go to www.flyfishalaska.com . You can also book or receive information on the trip from Howard McKinney at Fishabout travel service - phone: 888-409-2009 or 800-409-2000.
A Look at The Lodge
| | |
| --- | --- |
| | |
| The Lodge | A Cozy Living Room |
| | |
| Cindy Relaxing with a Book | Enjoy Some Wine Before Dinner |
| | |
| --- | --- |
| | |
| Smoked Salmon Anyone? | How About Some Jumbo Prawns? |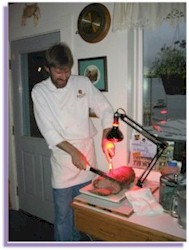 Here's the Beef
| | |
| --- | --- |
| | |
| Dinner is Always a Delight! | Dessert Won't Disappoint |
Grounds and Cabins
| | |
| --- | --- |
| | |
| The Fountain | Cabins Set Back on a Lush Hillside |
| | |
| Cozy, Comfortable Cabins | A View of Sadie Creek |
Our 2003 Trip Photo Album

A Tail of a Whale and a Dorsal Too
Lots of Bears to See
| | | |
| --- | --- | --- |
| | | |
| | Cindy - Dolly & Pink Action | |
| | | |
| | Cutthroat Action | |
| | |
| --- | --- |
| | |
| Covered boats for mooching | Great Skiffs for Fly Fishing |
| | |
| --- | --- |
| | |
| Cindy Mooching for Halibut | Cindy With a "Chicken" Halibut |
| | |
| Cindy & a Nice Mooched Silver | Dan With a Typical Silver |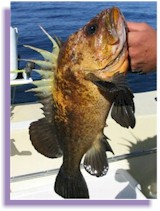 One of Several Varieties of Rockfish